Your Critical Mission at
any altitude
Your aerial missions must be carried out quickly, safely and successfully. Our tailored elite communication solution will provide you with immediate, undisrupted and secure communication in the air at any altitude.
Gilat Telecom satellite-based in-flight solutions make communications simple, reliable and affordable. Users are able to send and receive voice, messaging and data at any altitude or position above the earth. With equipment compact and simple to install options, Gilat Telecom's solutions are ideal for aviation communications.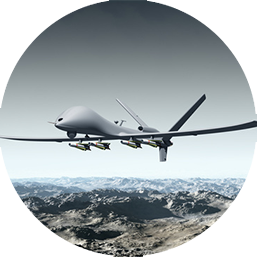 Aviator UAV
Special implementation of satellite communication for Unmanned Aerial Vehicle
Manned Platforms – special mission
Unmanned Platforms – surveillance
Compatibility with existing infrastructures
Support future IP infrastructures
Data and voice relay services
Micro SAT KU
the RockAIR is a truly global tracking and messaging device designed for use on the dashboard of light-aircraft, rotorcraft.
It has built-in GSM, which allows it to use terrestrial mobile phone networks when possible, automatically switching to the global Iridium satellite network when GSM is not available.
The unit comes with a quick release mount to enable carry-on installation in seconds.
Rock Air
Small lightweight portable on-the-move Ku Band satellite terminal solution.
It is designed for compact installation and fully autonomous operation for transmitting and receiving of high bandwidth data rates of more than 10 Mbps.  Micro SAT KA is the best in its class SWaP airborne SOTM Terminal
Size: 30X23 CM ( 11.8 X 9.0")
Super light: 4KG (8.8 LB) Ultra Light: 3.2KG (7.0 LB)
Low Power consumption < 18W,
Hi Performance Thin Panel Antenna
Built-in receiver fully autonomous, All in one (IMU, GYRO, COMPASS).
Modem agnostic & Optional Internal Modem
Optional Internal 4W BUC. Replaceable to KU Band